How to Choose and Maintain Ceramic Tiles
What are the key factors to consider when specifying / buying ceramic tiles as a flooring option?
When specifying tiles, it is imperative to consider the area of use (floor or wall) and the condition of use (wet or dry, traffic condition, exposure to hygrothermic stress : weather, sun, big temperature change, prolonged contact with water, etc.).
For floor that is often exposed to water, for instance the bathroom, and in contact with stain and chemicals (e.g. bathroom and laboratories involving chemicals), the tiles should be stain and chemical resistant. In particular, they must be able to withstand acids and alkalis. In addition, we need to add more safety requirement since there is higher risk of falling especially when the floor is wet. Therefore, the floor tiles have to be slip resistant as well.
For floor tiles subjected to high amount of traffic such as public areas in shopping centers, restaurants, meeting halls, hospitals, offices and factories, the tiles chosen must be hard, high in mechanical strength, show high resistant to abrasion and slip as well as resistant to stain and chemical attack. For public areas, heavy duty tiles such as porcelain tiles are preferred to glazed tiles because they are more compact and possess higher mechanical strength.
Great caution should be exercised before choosing polished porcelain tiles because they are more likely to lose the shine and glossiness compared to the non-polished tiles. Moreover, there is also high risk of slip if the surface is wet. 
For floor tiles subject to mild traffic such as private residence, e.g. living room, dining hall and bed room, glazed tiles can be selected depending on the amount of wear due to abrasion. example, the wear through abrasion for a hall in an apartment on the upper floor will be much less compared to the hall of a house with garden that has sand and stones leading to the front door. In the latter case, tiles with higher resistance to abrasion should be chosen. Tiles for wall are subject to little mechanical stress compared to the floor.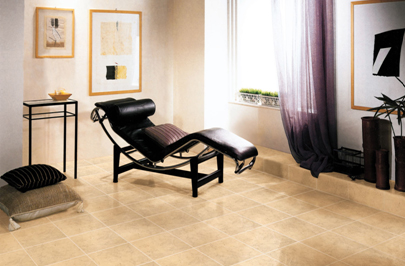 Figure 1 : Living room
Safety
The most significant characteristics of ceramic tiles relating to safety are that they are fire-proof materials compared to other flooring materials such as carpets, linoleum, vinyl tiles or woods. They will not burn or feed a fire. They will not give off any toxic gas or fume during a fire.

Ceramic tiles do not tend to accumulate electrostatic charge, therefore it eliminates the problem of getting a shock from electrostatic build-up.


Hygiene
Ceramic tiles will not retain liquids or absorb fumes, odours or smoke. They are suitable for any environment where hygiene is essential. The surface of tiles is resistant to biological agents such as bacteria or microbes and stain resistant, hence ceramic tiles are suitable for areas, for instance, restaurants, hospitals, schools, community hall and offices.


Ease of cleaning
Ceramic tiles do not retain dust or residue as these particles will not adhere to their surface. Ceramic tiles are so easy to clean and maintain, especially when the surface is compact, smooth, impermeable and chemically resistant.


Cost
It is obvious that cost is one of the important factors in selecting tiles. If cost is not an issue, exquisite tiles can be sought from retailer who can supply custom work.


Size
With regards to size, consider the dimension of the entire installation. Generally, small tiles looks better in small installations and large tiles in large installations. Yet, the rules of thumb does not always hold true. There is no standard sizing in the tile industry.


Colour
While most colouring materials will be altered by exposure to light, colours in the ceramic tiles are unaffected and will not change or fade from exposure.

It is vital for the tiles to match the furnishings, the range of objects, the colour of the surroundings and the activities carried out in the environment. The aesthetic is very much dependent on the personal taste of the user. Generally speaking, a dark colour used extensively in a room tends to make the room look smaller, whereas a light colour opens up the space.


Aesthetic
Depending on a tile's design, shape and surface texture, it can produce a large variety of effects: simple, elegant, cool, warm, modern, classic, etc. Each installation suggests a different style which not only you but the other people who are using the installation would feel comfortable with.


Good insulator
Ceramic tiles are excellent thermal insulators and sound insulators.
How are ceramic tiles maintained?
The lifetime of the tiled surface depends on how well it is cared for. Some precautions have to be taken in order to ensure lasting appeal of the ceramic tiles. They are as follow:
Cleaning products
Use appropriate cleaning products, such as standard commercial tile care products for cleaning. Avoid using acid based detergents that are very harsh and corrosive, such as those used for removing stubborn scale from the toilet bowls. Cleaning agents containing hydrofluoric or fluoric compounds should be avoided at all because they can damage the surface of ceramic tiles.
Cleaning methods
When cleaning, try to avoid the use of highly abrasive materials like scouring pads or metal pads. These materials will scratch the tile surface causing loss of gloss to the ceramic tiles.
Clean all spills immediately. The longer the spills stand, the greater the possibility of staining to the tile surface.
Abrasive dirt
Sweep away any grit or sand from the tiled surface as they can scratch the glaze. Try to keep the floor as clean as possible to prevent this type of dirt from being brought inside by providing doormats at the entrance.
Impact
Do not drag heavy objects such as furniture or crates across the tiled floor. Every effort should be made to prevent heavy objects from dropping onto the tiles.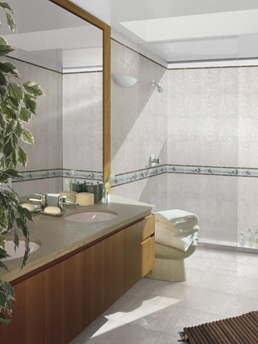 Figure 2 : Bathroom
Where are ceramic tiles normally used?
Ceramic tiles are versatile products suitable for use in a variety of situations. The choice of ceramic tiles depends largely on the design considerations and technical considerations. However, the tiles should have adequate technical characteristics and levels of resistance to stress (mechanical, chemical, thermal, etc.) for the environment in which they will be installed.
Ceramic tiles can be used for both interior and exterior purpose in the residential, commercial and public areas.
It has been a traditional application for ceramic tiles as floor and wall coverings in the kitchen (floor, wall, counter top) and bathroom (wash basin, tops, bath surrounds, showers). Please see Figure 2. With advances in ceramic technology, ceramic tiles are highly adaptable. They feature strongly in all spaces of the private residence including bedroom, living room, dining hall, stairs, driveway and car porch. The enormous range of decorations, colours and accessories add sophisticated details and create exquisite decorative surface to the tiled surface.
Due to versatility and practicality, use of ceramic tiles are increasingly being adopted in public buildings including hotels, hospitals, factories, offices, laboratories, shopping centers, restaurants, show rooms, places of worship, swimming
pools, etc.
Another innovative application of tiles is that the relief symbols on the surface of ceramic tiles can be used to facilitate mobility for the visually impaired people. Grooves and spherical projections placed in different positions and angles are used to indicate stop lines, steps, intersections and turnings. External cladding is another important use of ceramic tiles for high-tech facades in large scale urban projects.
Another application is that of raised floor, a system in which floor panels are used to allow rapid access to electrical and water supply systems for maintenance purposes. A cable or socket can be replaced or added without dismantling the whole floor. It only needs to lift the ceramic panels covering the area concerned.
Overall, the original and innovative applications of ceramic tiles have served to enhance the interior and exterior appearance of the public and private spaces.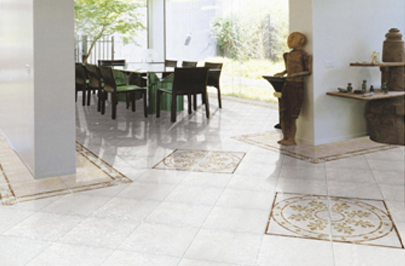 Figure 3 : Dining